September is National Life Insurance Awareness month. So, this month on the Journal I'll be posting about all things insurance. Insurance is…. well, sometimes you just must have it. Nobody really says, "yay, I have to buy insurance!"
This blog will cover life and health insurance. There are 2 things I want you to know after reading this:
The penalty on your tax return for not having health insurance went away in 2019, but…. you still should have health insurance because of the risk to your finances if something bad should happen.
You only really need life insurance if someone is depending on you for income.  If you are single, and don't have any children, and have money set aside for funeral expenses or someone you know is already going to cover that for you, then you probably don't need life insurance. But if you do have kids or a spouse/partner or someone that is dependent on you for money and if it would be detrimental to their finances if something happened to you, then you need life insurance.
HEALTH INSURANCE
 I'm not going to say much on health insurance. Just know, that it's complicated. And if you have a high‐deductible plan, you can set up a Health Savings Account (HSA) which is a special type of savings account for medical expenses. HSA's are triple tax‐deferred, making them super awesome because:
Cash contributions to an HSA are 100% tax deductible (within limits).
You can earn interest on the cash in the account or in some cases invest part of the cash into investments like mutual funds. Those earnings then grow tax deferred.
If you withdraw funds for qualified medical expenses, those funds are free from tax.
LIFE INSURANCE
Now, life insurance may also seem complicated. There are different kinds of life insurance, but essentially two main kinds: term and whole life. Term insurance is just that—you buy a policy for a specified term, and then after that, it's done. If you don't pass away during that term, then, too bad, nobody gets any money. However, it is also WAY cheaper than the other kind, which is whole life, which can also be known as "permanent" insurance. Whole life is the kind where you buy a policy and you have it until you die if you pay the premiums. And, whole life builds cash value, which can be used to pay premiums, so the policy could essentially "pay for itself" in some cases.
There are also several different types of whole life insurance, such as universal life, variable life, and variable universal life.
Investors should carefully consider the investment objectives, risks, charges and expenses of an investment company product before investing. The prospectus and summary prospectus contains this and other information about investment company products. The prospectus and summary prospectus is available from your financial advisor and should be read carefully before investing.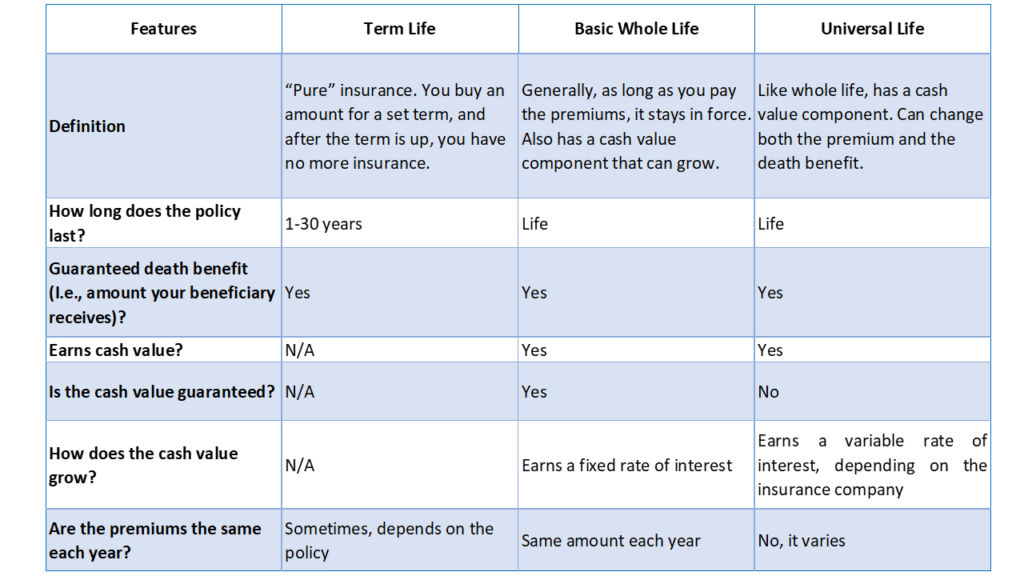 Be sure you know what you are getting into when buying insurance. What type is right for you? It depends. A qualified financial professional can help you decide.
Investment advisory services are offered through Stephens Wealth Management Group, (SWMG) an investment adviser registered with the Securities and Exchange Commission. SWMG is neither a law firm nor a certified public accounting firm and no portion of this article should be construed as legal or accounting advice. Past performance may not be indicative of future results. This information has been obtained from sources considered to be reliable, but we do not guarantee that the foregoing material is accurate or complete. SWMG, 5206 Gateway Centre, Suite 300 Flint, MI 48507 Ph: 810.732.7411.