For the past several years, our financial advisors have helped to manage several 401(k) plans for small to medium size businesses. And though I discussed 401(k)s and Roth 401(k) and how they work, I haven't yet addressed what should you invest your 401(k) account IN…?
This blog isn't designed to tell you what to do. But, I will describe an investment option that may help you if you just don't know what else to do. It's sometimes referred to as the "do-it-for-me" option, or, a "set-it-and-forget-it" option. What is it? The target date fund.
The target date fund has many names: lifecycle, dynamic-risk, age-based, retirement-date, but it acts the same no matter what it's called. Typically, they are a mutual fund that hold a mix of other investments. Sometimes it's a mix of other mutual funds, and most likely it has both components of stocks and of fixed income in the investments. They are designed to be long-term retirement investment options, that get more conservative as you approach the "date" in the name. For example, a 2020 fund is likely to be more conservative than a 2030 fund.
You pick a date, usually based on a date close to when you'll retire. So, if you are retiring in 2047, you might choose either the 2045 fund or the 2050 fund.
529 Plan accounts also have similar options. For investments there, you may choose the age-based option closest to your child's age now, which will base the investments on the assumption that the child will enter college when they turn 18.
Pros:
This is like, the easiest option. You simply pick a fund based on a date, and then the fund manager does everything else for you. They will automatically rebalance* the fund as needed, at least annually, to get more conservative over time, which is probably what you would do anyway if you had resources to devote to this.

*Jill-splain this: Rebalancing means that you trade the account back to the targets. So, if you have an account that is 60% stocks and 40% fixed income, and due to market growth, now the stock funds have grown and take up 65% of the account, making fixed income only 35% of the account. Rebalancing would mean that you sell off that extra 5% of the stock portion, and invest the proceeds back into the fixed income portion, so that you get back to a 60/40 allocation.

There are many target date funds to choose from. (I guess this can also be a con, though.) But you can select target date funds that specifically are focused on socially responsible investments, for example.
These types of funds reduce the risk that your behavior may mess up your investment return. If you select the fund, and then leave it alone, it reduces the risk that you may panic at market downturns and sell your investment at the wrong time. With these funds, you put your money in and someone who is probably more knowledgeable than you with investments is at the helm of the decision-making.
Cons
Not custom at all. You might end up retiring earlier than the date chosen, due to unforeseen circumstances, and then the market dips and you're left with a mix of investments that is far too aggressive and volatile for what you need. These funds align with people who follow a traditional path to retirement, and assume that because you are younger, you should be in a riskier asset allocation.
Fees are all over the place. Some target date funds are very low in fees, but others have a higher than average fee, because there is a manager behind them that is making these types of investment decisions.
It may cause you to rely on them too heavily, setting you up for failure. We learned in the financial crisis of 2008-2009, that fixed income doesn't always mean safe investing, and some of these funds went down in value far more than they were expected to. You still need to pay attention (self-driving cars, anyone?).
Each target date fund has what is called a glide path. This is the path that the fund takes to become more conservative. Different mutual fund companies take different approaches to their glide path. Some become more conservative than others in retirement, so do your research to find out which one best suites you. A sample glide path is illustrated below—this shows that the allocation of stocks to bonds, etc. gets lower as time gets closer to the retirement year: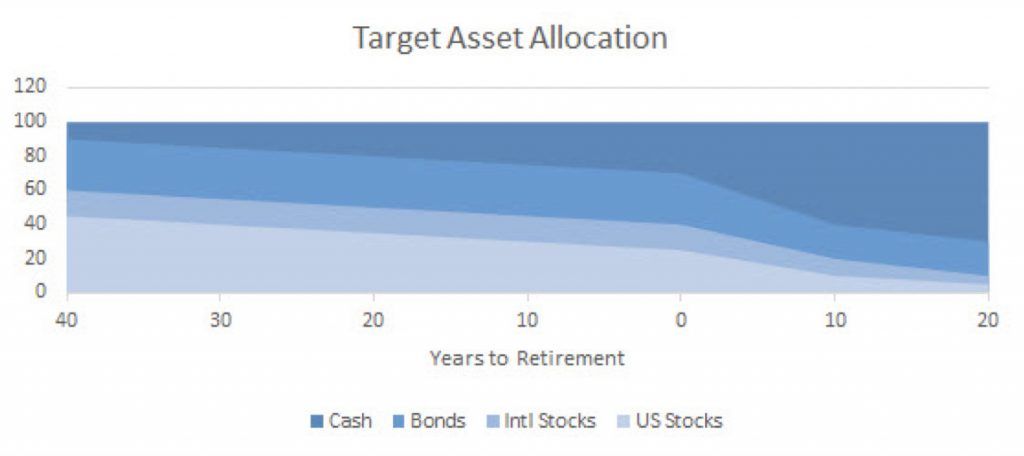 Target date funds may be a good option for you but as always, do your research or ask your financial advisor!
Any opinions are those of Jill Carr and not necessarily those of RJFS or Raymond James. The information has been obtained from sources considered to be reliable, but we do not guarantee that the foregoing material is accurate or complete. There is no assurance any of the trends mentioned will continue or forecasts will occur. Any information is not a complete summary or statement of all available data necessary for making an investment decision and does not constitute a recommendation.
Investing involves risk and investors may incur a profit or a loss. Diversification and asset allocation do not ensure a profit or protect against a loss.