So, some people believe that you shouldn't EVER have debt. I don't subscribe to this theory. There are times when debt may help. What is the difference between "good" debt and "bad" debt? Well, a simple answer is that good debt helps you finance something that will potentially increase in value, for example, a mortgage. When you buy a house and obtain a mortgage, theoretically, you expect that the house will increase in value. In the future, you could sell and get your money back and then some. Good, right? Plus, the mortgage interest may be tax-deductible, and making payments on time can help you build your credit score. However, if you buy a house that you can't really afford, or have a really high-interest rate, you may have created bad debt. So, the answer to what is good vs. bad debt is, it depends.
Let's look at some common forms of debt.
Mortgages/Home Equity Loans: We already covered first mortgages, but what about taking out a home equity line of credit? Home Equity Lines of Credit (HELOC), allow you to borrow against the equity in your home. This can be a way to free up some cash if you need it, but the interest rates tend to be variable, so they may become higher over time. Sometimes you can be approved for a larger HELOC loan amount, and then you can control the amount of debt you have, by only using what you need. If you need to remodel, pay for college, or consolidate high-interest rate debts, this may be a good option for you. However, there will be closing costs, just like other mortgage debt, and you shouldn't use this kind of debt to fund your lifestyle, because it still is debt.
Student Loans: This is typically an example of good debt, because you are financing a degree that you expect to increase your earnings. You are investing in yourself, and student loans may have a low interest rate that may also be tax-deductible. However, it does depend on how much you borrow, what your degree is in, and what you do with that degree. If you get a medical degree and have hundreds of thousands in student loans and then decide to be a drifter for the rest of your life, that would be an example of bad debt.
Business Loans: If you go into debt because you are trying to finance something in your business that will lead to more income or an asset that you can sell in the future, this could be considered good debt. Plus, the interest on these loans is usually tax-deductible to your business.
Auto Loans: Experts disagree on whether this is good or bad debt, but many lean towards the "bad" kind. Vehicles are a depreciating asset, so whatever you borrow, you are unlikely to get your money back.  Thus, you need to weigh the cost of financing vs. other options. Do you really need a car, or can you get by on public transportation? Maybe you can save up and pay cash for a used car, so you don't have a loan to pay back. Then, an auto loan might be worth it. Again, it depends.
401(k) Loans: To some, this is almost never a good debt. It *sounds* good, because you are paying yourself back, but the money you loaned yourself is out of the market, and so you are missing out on the compound interest it could be earning. And before you think that is nothing, the chart below shows that it can mean an accumulation of as much as 30% less in your ending balance over time: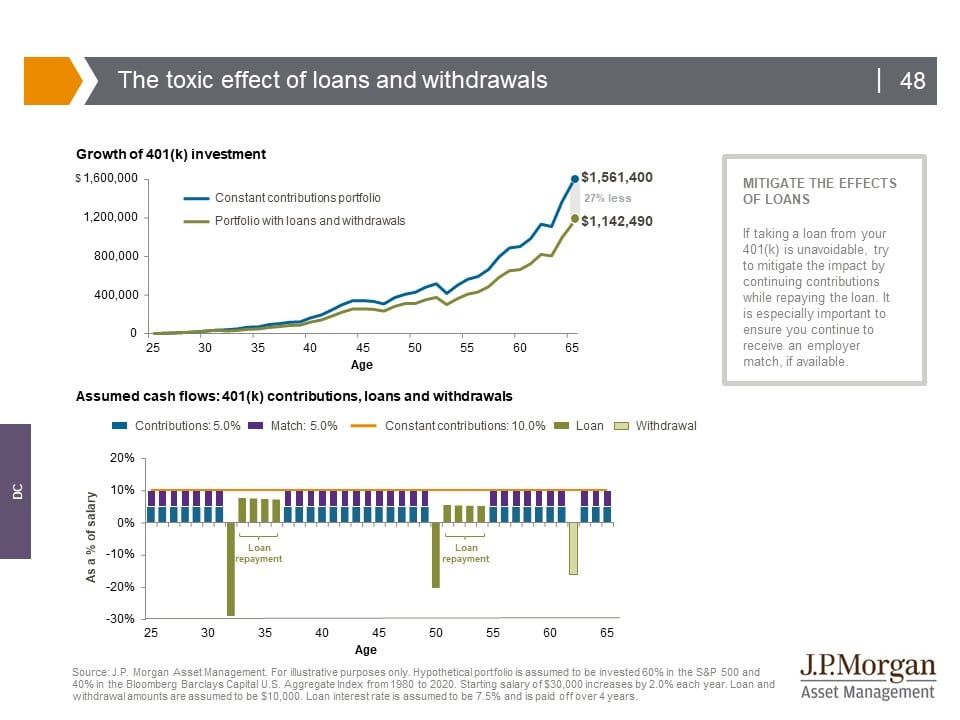 Credit Card Debt: Most of the time, credit card debt is bad debt, in my opinion. The exceptions could be if you know it's a short-term thing, or you can get a low rate for a set timeframe and then pay off the debt within that timeframe.
Payday Loans/Cash Advance Loans: These are pretty much the worst kind of debts. The interest rates on these tend to be ridiculously high and you can incur lots of fees. I believe you should avoid these.
With any kind of purchase that may require a loan, it is important to ask yourself, is it worth going into debt to fund this purchase? Will this make my life better or worse in the long-term? My thinking is don't sacrifice your future to fund the now.

Investment advisory services offered through Stephens Consulting, LLC, a SEC registered investment adviser doing business as Stephens Wealth Management Group (SWMG).  SWMG is not a registered broker/dealer.  SWMG investment adviser representatives may only conduct business with residents of the states and/or jurisdictions for which they are properly registered. Therefore, a response to a request for information may be delayed. Please note that not all the investments and services mentioned are available in every state. Investors outside of the United States are subject to securities and tax regulations within their applicable jurisdictions that are not addressed on this site. Contact our office for information and availability.  
 
Links are being provided for information purposes only. SWMG is not affiliated with and does not endorse, authorize, or sponsor any of the listed websites or their respective sponsors. SWMG is not responsible for the content of any website or the collection or use of information regarding any website's users and/or members.