Wow, the markets have sure had a bumpy ride lately! Unfortunately, this is all par for the course with the history of the stock market. We are coming off several years of growth in the markets, and volatility is back, baby. It is important to remember not to make decisions based on fear and panic, or even jubilation. Just because the market or a particular security did one thing, one day, does not mean that it will do it again, and the old adage is "buy low, sell high," not "sell when the market is falling, and you are freaking out, and buy again when it goes way back up, when you feel safer." That is simply not a good way to make money.
One of the best ideas is to make sure your accounts are well diversified, and then, don't watch TV, don't read the Internet, don't talk to people, and remember that volatility is absolutely normal. Short-term volatility causes panic and many investors make changes based on this that hurt them in the long wrong run. Remember, it's only a loss on paper until you sell.
Below is a chart from First Trust that shows the intra-year declines of the S&P 500 Index vs. calendar year returns. You will see that even though several periods ended the calendar year with a positive return, even though during the year, they were down as much as 34%, in the case of 1987. We saw a similar pattern in 2015, when markets declined as much as 12%, but then ended the year almost flat.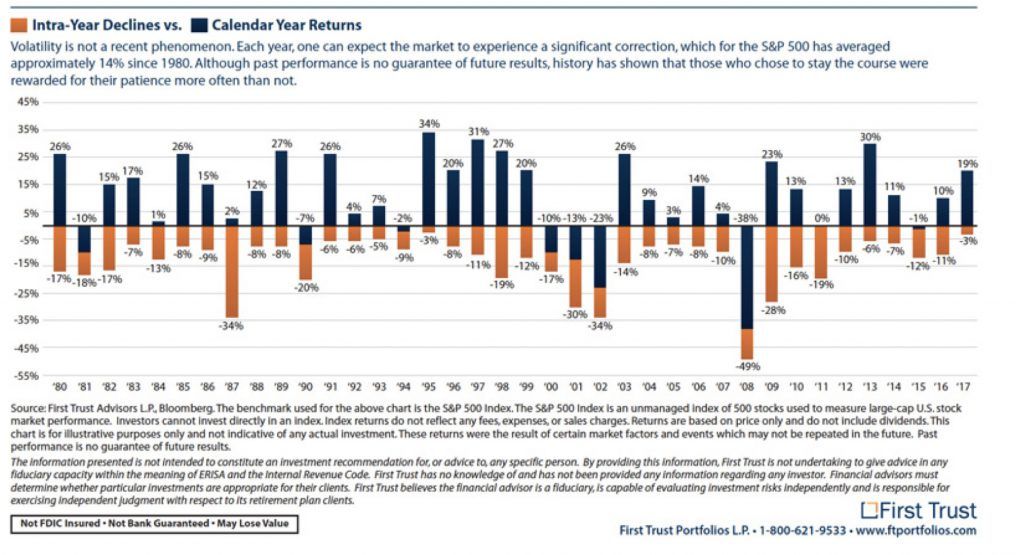 If you are trying to time the market, by getting out due to declines, you must then also time when to get back in. That means you need to make 2 correct decisions back-to-back to come out ahead. Do you consider yourself that lucky?
Most accounts should be invested for the long-haul, and if you have shorter-term goals in mind, then those accounts should be conservatively invested, as appropriate. Rarely will you find financial advisors or other "advice people" who will tell you that they can get you rich quickly or shield you entirely from downside. And what does well-diversified mean? Make sure to follow our blog so that you hear all about diversification in my next article.
The information contained in this blog does not purport to be a complete description of the securities, markets, or developments referred to in this material. The information has been obtained from sources considered to be reliable, but we do not guarantee that the foregoing material is accurate or complete. Any opinions are those of Jill Carr and not necessarily those of Raymond James. Expressions of opinion are as of this date and are subject to change without notice. There is no guarantee that these statements, opinions or forecasts provided herein will prove to be correct. Investing involves risk and you may incur a profit or loss regardless of strategy selected. Future investment performance cannot be guaranteed, investment yields will fluctuate with market conditions. Diversification does not ensure a profit or guarantee against a loss.