Previously, on Jill's Journal, I talked about diversification with stocks and bonds. Remember, the goal of diversifying your investments is to smooth out your ride – you want to have several different types of assets to manage the ups and downs of your account.
Even amongst stocks and bonds, there are still more ways to diversify. Let's back up, and first define the different asset classes. This will kick off the first of a four-part series on the different types of asset classes.
Asset classes generally refer to the following: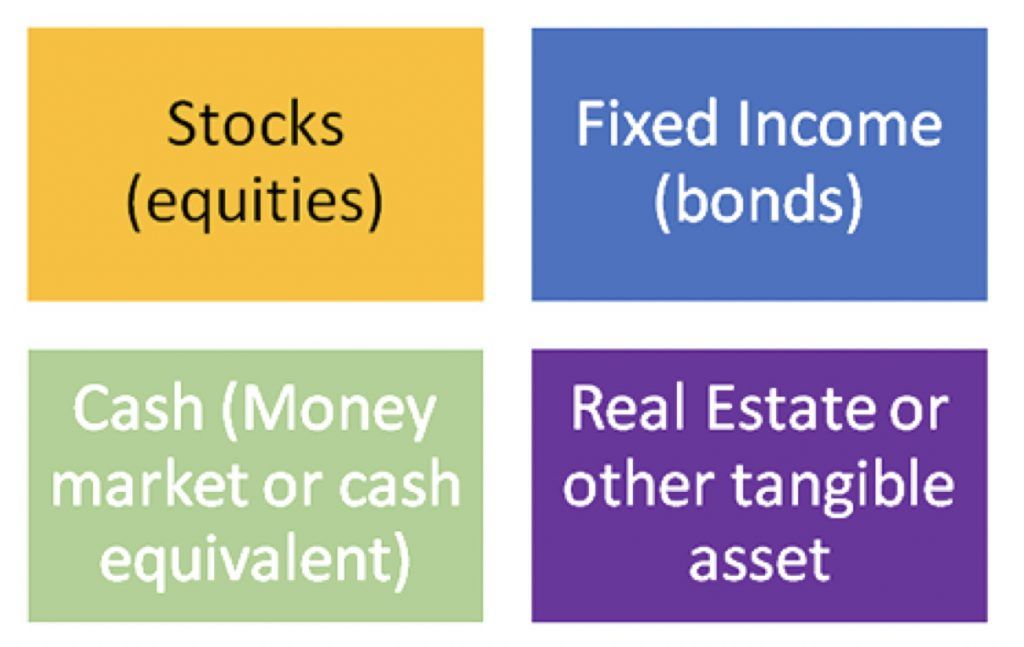 So, within each category, we can break this down further. Today, we're going to talk about Stocks.
Stocks:
When I say this, I'm not just talking about shares of Google. I mean anything related to a stock—such as a stock mutual fund, a stock ETF (exchange traded fund), individual stocks, or a unit investment trust full of stocks…. you get the idea. Let me define a few terms.
*Not all inclusive
Definitions:
Stocks are sometimes referred to as equities. The terms can be used interchangeably. A stock represents ownership in a company. If you own a share of stock, technically, you own a share of that company, and the more shares you own, the higher your ownership is. If you own shares of a publicly-traded company, often those come with voting rights, so you may receive communication from the company on how to vote for things like, their board of directors. If you own more than 50% of the company's stock, you are considered the majority shareholder.
A stock mutual fund, is a mutual fund that is primarily holds stocks as the investments. A mutual fund is a type of investment that is usually professionally managed and is made of a pool of moneys collected by investors for the purpose of investing. For example, you may invest in a mutual fund that tracks the S&P 500 index. This fund would buy and sell the various stocks that make up the S&P 500 index. The mutual fund shareholders technically own a share in whatever the total fund has for its investments. The fund itself is not traded on a stock exchange—investors own shares, and these are either bought or redeemed. The mutual fund is priced once a day after the market closes, so when you go to sell or buy shares during the day, you don't know what price you will receive until the next day when the mutual fund is valued, and this is called the Net Asset Value.
A stock exchange traded fund, or ETF, is like a mutual fund, but is traded throughout the day on an exchange. Like the mutual fund, the investment holds various things, including stocks, that the manager of the ETF has designated. The investors own shares of the ETF, that represent their share in the total investment of the fund. Unlike a mutual fund, the ETF's price changes throughout the day, much like a stock does.
A stock unit investment trust, or UIT, is an investment company, that offers a fixed portfolio, typically made of stocks or bonds or both, for a specific period, to investors. Whereas a mutual fund or an ETF is a dynamic portfolio, meaning that the manager can buy and sell stocks within that portfolio at any time, the UIT is static, meaning that once you buy the UIT shares, you own a specific allocation of stocks that isn't going to change.
Where does the diversification come in? So, within stocks, there are many ways to break this down further. Some ways are:
Break down by size: There are large cap, mid cap, small cap, and even mega cap and micro-cap companies. This is referring to "market capitalization," which is calculated by taking the number of a company's outstanding shares, by its stock price per share. When you arrive at a number bigger than $10 million, that is large cap. Large cap includes your Googles, your Apple, your Facebook stocks. Big, household names.
Breakdown by location: You can have U.S. companies, versus International companies in developed regions (Like the U.K.), versus International companies in Emerging Markets, such as India or China.
Breakdown by style: Sometimes investors break stocks into categories and look for stocks that fit their style. The growth style concentrates on companies that are expected to, duh, grow. These may be companies that have high stock prices relative to their actual sales/profit, but they offer higher potential earnings growth, and there may not be a dividend paid…these companies are looking to get really big really fast, so they are plowing their cash back into the company, and not the shareholder's pockets. Value investing means just what it sounds like—these companies are basically "on sale" from what the market is valuing them at. Value investors look for good, strong, companies, that may be trading at a lower stock price, but the idea is that they are still great stocks that tend to grow more slowly, have proven their ability to generate profits, and may even have higher dividend payments than growth stocks. Then there are companies considered core stocks, because they are stable, boring, blue-chip stocks that have historically been profitable holdings. Sometimes with mutual funds, you will see them categorized as growth, value, or blend, which includes companies from both the growth and value categories.
Is your head spinning yet? Hopefully you takeaway that a) there's more than one way to skin a cat, I mean, stock, and b) the goal is to diversify your stock portfolio so that you own different pieces of the stock market so that you can maximize your returns, since not every investment reacts the same way.
We're done for today, but next time, tune in when I talk about fixed income.
The information contained in this blog does not purport to be a complete description of the securities, markets, or developments referred to in this material. The information has been obtained from sources considered to be reliable, but we do not guarantee that the foregoing material is accurate or complete. Any opinions are those of Jill Carr and not necessarily those of Raymond James. Expressions of opinion are as of this date and are subject to change without notice. There is no guarantee that these statements, opinions or forecasts provided herein will prove to be correct. Investing involves risk and you may incur a profit or loss regardless of strategy selected. Diversification and asset allocation do not ensure a profit or protect against a loss. This information is not intended as a solicitation or an offer to buy or sell any security referred to herein. Investments mentioned may not be suitable for all investors. The S&P 500 is an unmanaged index of 500 widely held stocks that is generally considered representative of the U.S. stock market. Please note, direct investment in any index is not possible. Dividends are subject to change and are not guaranteed. Dividends must be authorized by a company's board of directors. International investing involves special risks, including currency fluctuations, differing financial accounting standards, and possible political and economic volatility. Investing in emerging markets can be riskier than investing in well-established foreign markets.