Sometimes you hear the phrase, "put your money where your mouth is," meaning, use your dollars towards things you really are passionate about. If this matters to you, then you might be interested in ESG or SRI investing.
ESG stands for Environment, Social, and Governance. SRI stands for Sustainable, Responsible, and Impact.
These terms usually refer to a set of criteria or standards used to evaluate potential investments in a company or business. Some people attribute this to socially conscious investors, but it goes beyond that. Some people call this impact investing. In my definition, impact investing means using your investment dollars with intention, to create an impact of your choice alongside financial returns.
There are many ways to do this, and the concept is catching on more and more every day. This chart shows the many areas for potential investment. You'll see, to keep with the "March is Women's History Month" theme, that one of the ways to invest in this arena is that you can find ways to invest in specifically women's issues.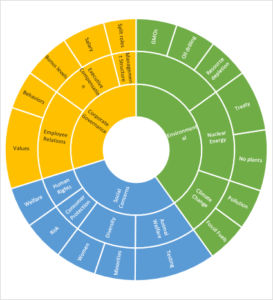 It was believed not too long ago, that investing in companies that cared about climate change, or companies that didn't believe in sweat shop labor, or any other factor that seemed limiting, were not going to be as profitable as companies that didn't abide by those criteria. That has been debunked and now we know that these companies are just as likely to be profitable. There are numerous studies that show statistically the relationship between positive financial returns and ESG investing, such as how focusing on ESG factor leads to better risk management, because of lower capital costs and a lower risk, due to greater transparency. For example, see the study below with data from Bloomberg.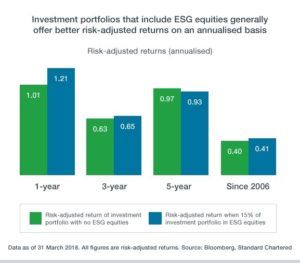 ESG & SRI investing provide a way to integrate your values with your investments. If interested, speak to a financial advisor (like me!) to learn more. I'd love to help you learn more about this.
Any opinions are those of Jill Carr and not necessarily those of RJFS or Raymond James. The information has been obtained from sources considered to be reliable, but we do not guarantee that the foregoing material is accurate or complete.
 Investing involves risk and you may incur a profit or loss regardless of the strategy selected. Sustainable/Socially Responsible Investing (SRI) considers qualitative environmental, social and corporate governance, also known as ESG criteria, which may be subjective in nature. There are additional risks associated with Sustainable/Socially Responsible Investing (SRI), including limited diversification and the potential for increased volatility. There is no guarantee that SRI products or strategies will produce returns similar to traditional investments. Because SRI criteria exclude certain securities/products for non-financial reasons, investors may forego some market opportunities available to those who do not use these criteria. Investors should consult their investment professional prior to making an investment decision.